Netflix
One of the coolest features of the app is the ability to browse Complete Netflix titles on your iPod Touch/iPhone/iPad and watch it on your computer. The remote page lets you control all the playback aspects of the video.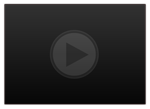 Coming soon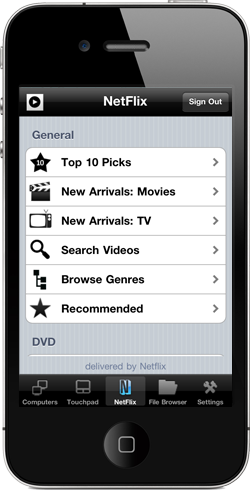 Netflix Home
The home page shows the user specific TOP 10 videos, New arrivals in movies and TV shows. It also features a search with auto suggest. It also allows users to browse through genres,and displays recommended videos for specific user.
Queues
Remote for Netflix app allows users to manage their DVD as well as Instant queue. User can tap on "Edit" button to move the title up or down, and to delete the title.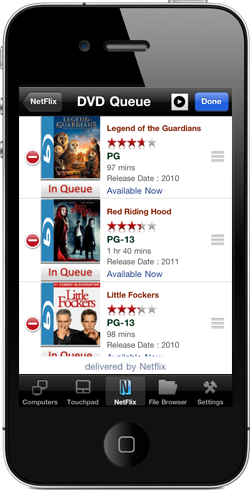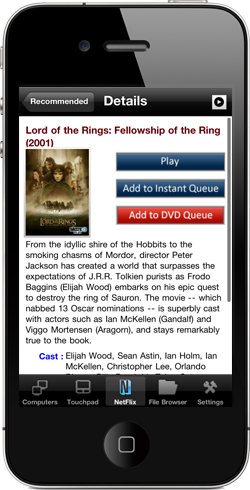 Movie Details
Allows user to get the basic details of the Movies/TV shows when listed. And once user taps on details disclosure button, it shows complete synopsis, title, Release date, Cast, Director, Media formats.
Episodes and Discs
This is the only app which shows detailed description of episodes and discs along with season number.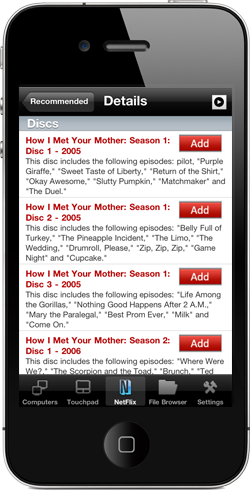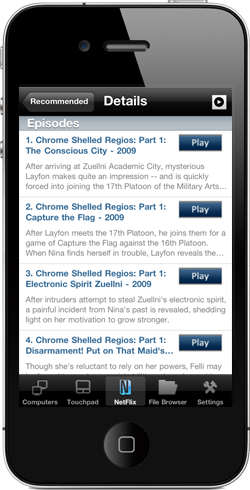 Remote
Allows user to browse through the Netflix catalog, and plays it on the computer it is connected to. It features a remote control to control the Playback on the movie being played on the computer. Remote also shows the clipart and synopsis of the movie being played.