YouTube
One of the coolest features of the app is the ability to browse YouTube videos on your iPod Touch/iPhone/iPad and watch it on your computer. The YouTube remote page lets you control all the playback aspects of the video.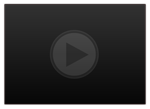 Coming soon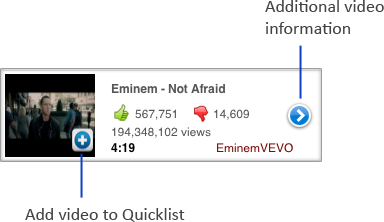 Quicklist
Quicklist feature enables users to queue up videos they want to watch. Find the videos you want to watch and add them to the Quicklist queue.The Quicklist page allows you to manage queue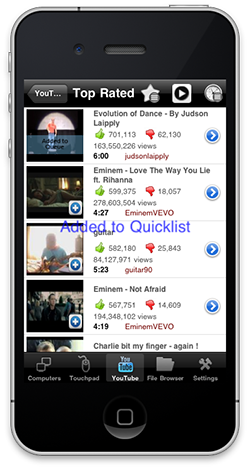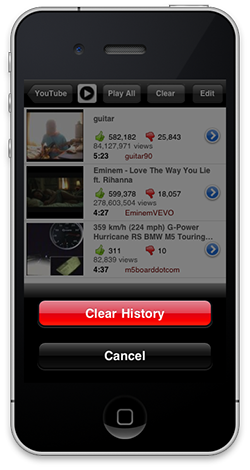 History
The History feature enables users see the all the videos they have on a particular computer. The History page allows you to manage your video playback history.
User Related Videos
If you have a YouTube account, login to your account and view all your playlists, favorites, subscriptions and uploaded videos. The "Play All" features lets you watch all the videos in your playlist with just a tap.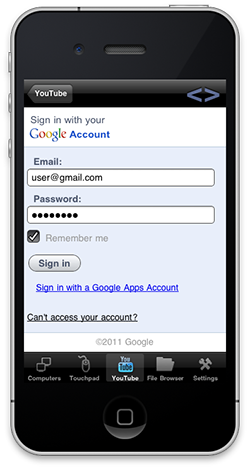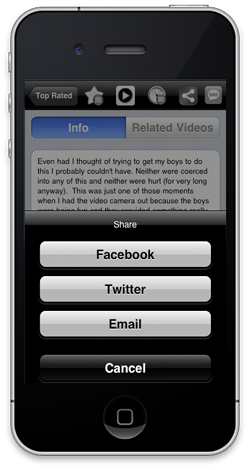 Share Videos
Share your favorite videos with friends and family via Facebook , Twitter or email using the "Share Video" feature.
Remote
Use the iPod Touch/iPhone/iPad's volume buttons to control volume

Toggle full screen mode

Change video quality

Play/Pause/Stop/Previous/Next

Auto Repeat the video

Choose you favorite picture as wallpaper